Premier And Luxurious Dubai Hotels
Jumeirah owns the Emirates Towers hotel, the Jumeirah Beach hotel, the Madinat group of hotels, which includes Mina A Salam, Al Qasr & the Madinat Souk which houses the largest swimming pool in the Middle East. Jumeirah also owns the amazing desert hotel, Bab Al Shams, located in the desert with sand dunes rolling from its perimeters and making a fantastic landscape for the falcon shows and camel riding they offer.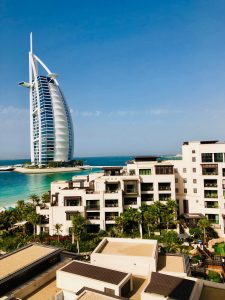 All Jumeirah hotels have amazing architecture and are worth a visit for this alone. This, together with their famous customer service values, makes them a great choice for visitors to Dubai. For a true taste of Arabia, visit the Madinat Souk, part of the Madinat and Mina A Salam complex located on Jumeirah beach. This resort offers 42 restaurants overlooking the Burj Al Arab and each is situated on the edge of their very own canal. Watch the dhows transport the hotel guests around this vast complex on their waterways and lagoon. It really is a beautiful spot for a sundowner or a meal incorporating food from all over the world.
There are many other famous branded hotels in Dubai, from The One and Only Royal Mirage to Hiltons, Sheratons (both beach and airport locations), the Kempinski Group, Shangri La Group and Crown Plaza among many others. Most hotels are at 5 star standard, however there are some lower cost hotels such as the 4 star Al Manzil hotel, located behind the world's tallest building the Burj Dubai nestling in its own Arabian style architecture and complementing the huge sky rise buildings surrounding it.
The Grosvenor House hotel located in Dubai Marina is a fantastic venue for staying or visiting their restaurants and bars. Have a drink in Bar 44 located on the 44th floor of the hotel and offering amazing views of the Marina area, and then take the express lift down to the fabulous Buddha Bar for a fusion of Thai and international cuisine.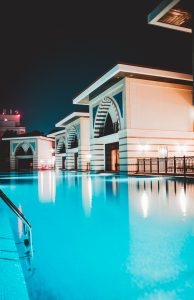 All 5 star hotels in Dubai have pools, gyms and restaurant facilities with many offering spa areas as well. Of course the crème de la crème of spa facilities has to be located within the 7 star hotels of the Burj Al Arab, where reservations are recommended and the environment is so much part of the treatment you will never want to leave!
Many hotels also offer apartment facilities so if you are here longer term and want to experience more of the home comforts, these are a great option.
Other companies capitalizing on the huge tourism market here are with their Versace Palazzo hotel and the Trump Towers hotel (located on the famous Palm Island). Versace should be opening its doors to the international elite during 2008 with the Trump Tower hotel opening scheduled to be around early 2010.
Ranging from amazing desert hotels, luxury beach hotels and fantastic corporate hotels in the city, Dubai offers an eclectic mix to choose from. However, all are within close proximity of all tourist facilities, shopping malls and attractions as well as its fantastic beaches – you can't go far wrong with any location. Most city business hotels located along Sheikh Zayed road also have affiliations with beach hotels and will transport you to the beach during your stay.