Travel to Germany
Germany is a Federal Republic country and the most influential in entire Europe. However, it has its own share of controversial historical facts like the Holy Roman Empire, construction and demolition of Berlin Wall and Nazism. It does boast of having wealth of art and rich culture as well as several magnificent castles. The language that is widely spoken here is German. The commonly visited tourist destinations do have numerous English speaking populations.
Weather
Germany has unpredictable weather with rains in almost all months. Spring season is in April & May, which is known for blooming of flowers and fruits. May to September is known for fine weather and sunny skies and is considered to be the best time to travel to Germany and enjoy site-seeing. During these months, people can enjoy outdoor sport activities like swimming, cycling and hiking. November to March (early part) is winter season, where winter sports are held at resorts, however, the days are short and temperatures fall below freezing point.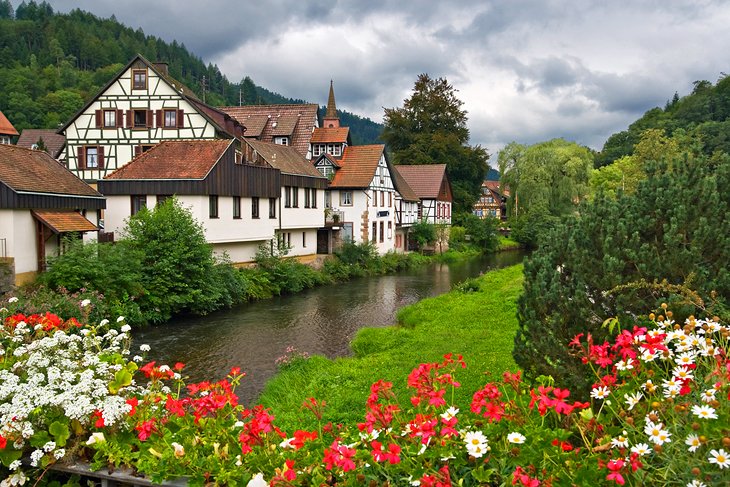 Local customs
It is customary to handshake when you first meet someone and say 'Guten Tag' and when departing 'Auf Wiedersehen'. If visiting anyone, an odd number of uncovered flowers is expected to be taken along, especially roses. Refreshments and foods are offered to guests. The hosts at the table say 'Guten Appetit' for which the reply from the guest is to be 'Ebenfalls'. Public smoking is better avoided. Casual dresses are generally worn. However, some occasions like theatre, opera, social functions and some restaurants do need formal wear.
Moving around
City Passes or Welcome Cards allow unlimited access to bus facilities in several German cities. It also provides special offers and discounts on specific tourist attractions. To enjoy flexibility, chauffeur driven cars or rent-a-car can be hired. Speed limit in cities is around 50kph and on highways is 100kph.
How to Travel to Germany
By Air:
Lufthansa is the national airliner and the main airport is Bwelin-Tegel, located 8 kms from the city, at a distance of around 20 minutes. The airport also offers facilities to passengers like duty-free shops, post office, banks, conference hall, eateries, tourism information and car hire.
Frankfurt Airport is located 13 kms from the city and takes about 20 minutes by bus. Intercity Railway Network connects other countries like Austria, Switzerland and Hungary. Facilities offered at the airport are left luggage, duty-free shops, conference halls, banks, restaurants, car hire, post office and tourism information.
By Sea:
Ferry connections can be availed to Lithuania, Finland, Norway, Latvia and The Netherlands.
By Rail:
Railway services can be enjoyed from and to Belgium, the U.K and France with Eurostar. Telephone booking is allowed. Unlimited 2nd class train travel is permitted by Inter-Rail in 29 European countries. Unlimited 1st class train travel is allowed with Eurailpass offers in 17 European countries.
Both InterCity and EuroCity boasts of offering onboard restaurant providing fine food and drinks. Business class is targeted by the InterCity Express and offers services like conference compartments, fully equipped office, etc. Tourists above 17 years of age are permitted to carry tobacco and alcohol in specified limits.